For quite a long time brands have been utilizing storytelling in creating relationships with their customers and audience. This is achieved by creating narratives that are used to connect with the customers. Stories tend to immerse customers and the audience at large be glued or listen more about the brand. Brand stories also help in sharing customer experiences and evoke human connections between the people behind the brand and customers.
In this article, l will focus on #AfricaTweetChat session with Barrack Onyango. Barrack is a brand storyteller who uses videos to tell the narratives. Below, l have shared the questions and answers from him and the Africa Tweet Chat community.
Q1. How can content be used to tell a brand story during this pandemic?
"While you should quarantine yourself, don't quarantine your brand! It's been said before, and I'll say it again (we'll probably never stop saying it actually): Content is king! Focus on the content you're producing; make it informational, entertaining, and most importantly, make it human," Barrack
Barrack goes on to say that,
1/2 Brands should look to share behind the scenes insights into what's really happening at their business as a result of COVID-19, and how they're looking to address key issues, and assist their suppliers and communities based on their mission. #AfricaTweetChat

— Barrack Onyango™ (@barryonyango) May 20, 2020
Another of your content strategies can be to create content to promote the service of others. In this way, your consumers will be assured that, although you're running a business, you haven't lost touch with reality. You acknowledge that people are suffering around the world and that they need help.
"Content is how we tell our stories. And there are so many ways to uplift & empathize with branded content during crazy times. The key is to ensure the story is authentic & human" ~ Semrush
"Communicating what the brand is doing during the pandemic is an effective way to reach out to the clients"~ Daniel Warui
As Allan Kakai puts it, "this period is very good especially for us all who are in hibernation and idle.We are curious and looking for stories all over. From internet. Imagine if you can tap in our curiosity and imagination. Giving us your story about your brand and how it all started."
Well, as brands find creative ways to approach content for their narratives, it is important to acknowledge the way the employees and employers feel about the whole situation, not forgetting the customers. Hence, a need to infuse empathy and personalization into the content to make it more soothing.
Q2. Is it time to change your brand storytelling plans?
First, ask yourself, "What do I want to be known for during this time?" People will remember how you made them feel right now, whether that's positive or negative. Empathy is key here. You don't want to be tone-deaf and alienate people, because nearly everyone these days is worried about something related to corona virus. Are you sending the right message, or is your brand's voice tone deaf? You may have to change your brand messaging to fit with this "new normal," says Barrack.
Your customers are looking to you for reassurance and guidance during this time.
A2. Emotion and empathy should be a key element in your content. Someone said people don't care how much you know but know how much you care. Empathy becomes key in this period. #AfricaTweetChat

— Grad Zimunya 🇿🇼 (The Duke of Manicaland) (@graduatezm) May 20, 2020
All of your branding messages should be coming from a place of empathy, caring and kindness. Here are ways to position your brand messaging during COVID-19.
Humanize your branding.

Increase your social media presence.

Create customer delight – Customer delight is about exceeding customer expectations

Speak up as a leader – Right now, people's emotions are running high, and a brand's blunders may not be as easily forgiven or forgotten as we've recently witnessed with Canadian artist Bryan Adam's Instagram backlash.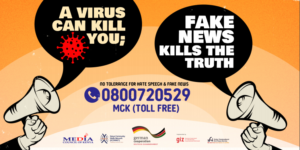 Q3. What will this crisis teach us about purpose-driven brand storytelling?
People are demanding that brands not just deliver better self, but a better society as well. Nike, for example chose to twist its consumers' athletic aspirations into a life-saving call to action with new ad copy that admonished, "If you ever dreamed of playing for millions around the world, now is your chance: play inside, play for the world," Barrack tweeted.
The core expectation that consumers have of brands in any situation, but particularly in a crisis, is that brands will do what is right for their employees, suppliers, customers, and society at large, without regard for how much it costs.
Consumers are keen. Show care. Acknowledge their feelings, emotions and frustrations then present your story in a manner that is helpful and worth of their time. People will always remember how your brand made them feel.
A3: This crisis has taught us that the first things for business to move on smoothly is the well being of clients and fans. Brands will now have to refocus on creating brand stories on essential products and services first. #AfricaTweetChat https://t.co/hd5fa4Anny

— UGAMAN 🔱 (@Ugaman01) May 20, 2020
Q4. What are best practices for creating purpose-driven storytelling now and in the future? What should brands avoid?
Not only should brands educate consumers on how to make better consumption and lifestyle choices but also inspire other business leaders and decision makers to follow suit. Barrack points out that brands should look forward to partnerships that boost credibility when it comes from a collective voice.
Brands should avoid ASSUMPTIONS and understand that Cultures and values aren't just shaped by intent; they're shaped ultimately by a story about who we need to be to succeed.

Content helps communicate purpose and purpose helps drive content creation, strategy and implementation.

— Barrack Onyango™ (@barryonyango) May 20, 2020
Nsimbi Joshua loves to see brands adding value to their messages. If brands create value added content that speaks to the needs of the customer even if its outside the core business offering, it will help them retain their audience while pulling in new customers.
To crown it all, brands should focus on content that helps communicate purpose. The purpose must also drive content creation, strategy and implementation. Avoid the ME approach for its all about the CUSTOMER.
Q5. For brands setting up their digital footprints, how should they go about storytelling?
First and foremost, brands need to understand why they want to use storytelling. Storytelling for brands is guided by the stage of the brand in the industry, the message they intend on communicating to it's public's, the type of audience it intends on reaching and the main objective of communicating.
A5. Emotional appeals are the truest way to connect with customers, and stories are the most powerful method for doing so.
1. Root it in reality
Brand narratives must be genuine because consumers can smell insincerity a mile away.
2. Keep it simple#AfricaTweetChat

— Barrack Onyango™ (@barryonyango) May 20, 2020
Lastly, remember every brand has a story to tell. Make sure yours is worth telling. Don't rush to jump in, its not a race. Understand the atmosphere and zero down to best approach. Craft stories that ooze emotion, insight and thought. Listen first before speaking. Learn from others and pick out what they do well and practically apply it.
Q6. How can brands get creative with Storytelling when the World Is on Pause?
If brands can leverage on any trend that is RELEVANT to their audience at this particular time, they can still keep themselves at the customers' mind and faces. Other brands can host webinars or encourage their employees to register and attend webinars, LIVE sessions on Facebook, Twitter, Instagram and YouTube. Most importantly, encourage them to ask questions and contribute during the webinars where they can share their brand stories.
Brands can use animation, illustration, CGI (computer-generated images), VFX (visual effects), motion graphics, compositing, stock footage, user-generated footage and more. Barrack used Ikea Israel's post an example,
See example: @IKEA Israel posted some instructions on its FB account, with the simple direction: "Stay Home" with a picture of a closed door and some toilet roll. Read more: https://t.co/PgYNZOTajp pic.twitter.com/1xoe6jJZZH

— Barrack Onyango™ (@barryonyango) May 20, 2020
"Big brands should not be really worried in foretelling the future for they ought to generate the it, the flexibility of a brand enables it go through the changes. The brand ought to be more human, the more human a brand in times like this, the better for it," says Paul Otieno
Q7. Why should brands care about Storytelling at this particular time?
The human mind is a story processor, not a logic processor. Research by Origin and Hill Holliday reveals something quite fundamental about product stories: consumers value a product more – and therefore pay more – if the accompanying information is in story form.
Stories communicate messages in highly specific and emotionally impactful ways. They are memorable, and they give us something to identify with and hold on to. Statistics tell us what the reality is, stories tell us why it matters and why we need to care.
Through storytelling, we open the door and invite people to come in, get comfy and stay a while. We also build communities and not just followers or customers.
just thinking about the stories my grandmother used to tell us as children, those last a lifetime because they are associated with a memory so powerful it does not fade. Same thing with brands. Its starts with the story, backed up by the experience and the attached memories..

— abbey mpamhanga (@AbbeyMpamhanga) May 20, 2020
Q8. How can brands achieve emotional storytelling during this Covid19 pandemic?
We have probably heard many marketing experts talk about emotional connection with audiences and customers. Some brands are still figuring out how to employ emotional storytelling without noticing people are the ones managing the brands either offline or online.
As Diana from SEMrush puts it, "we're probably all tired of this word, but it has to be authentic. It can't feel forced or that a brand is doing it because everyone else is. Tell the stories that are emotional to you as a brand or business because you are people too."
Barrack signs out by saying,
A8. One of the greatest tools is empathy – in other words, putting yourselves in the customer or audience's position.
• Harness emotion – "Can I inspire my audience enough to go and take action?"#AfricaTweetChat

— Barrack Onyango™ (@barryonyango) May 20, 2020
Wrapping Up
Just as stories are used to keep children calm, comfort them, "draw beautiful" pictures in their minds as it connects them, the same way brand storytelling does. People are in panic, some have lost their loved ones. Brand storytelling also connects consumers.
#AfricaTweetChat runs every Wednesday at 9pm EAT, 8pm CAT and 7pm GMT+1
We have a new guest expert every week and we focus on digital marketing and business related topics.
Join the community by following us, Africa Tweet Chat