If you just realized a good campaign plan on content is important- congratulations! While it is tempting to celebrate that, there's a lot to look into as you approach the real marketing campaign. You cannot just post it the way you want because at the end of the day you want conversions that will translate to purchases and profit.
Coming up with a Facebook content marketing strategy is very important for a number of reasons. For instance, this strategy development can contribute to an end result to generate engagements with the target audience, promote conversions, make communication effective and increase comments, likes and shares on Facebook.
A research done by HubSpot state that a well-coordinated campaigns can help generate leads more than 72% if the content marketing strategy is well figured out. Be able to answer why you are creating content, who you are helping, and how you will help them in a way no one else can.
Define your audience
Know who your audience is. Will you need to do paid ads to reach the targeted group? What is your geographical coverage?
Focus on getting the message to the right people. You can use influencers who can help you reach your targeted audience of prospective customers of the products and services you are dealing with.
You can additionally focus on the use of active Facebook groups that share content relevant with yours.
Find the best time to post
According to a Buffer study, the best time to post to Facebook is between 1pm – 3pm on during the week and Saturdays. We also found that engagement rates are 18% higher on Thursdays and Fridays.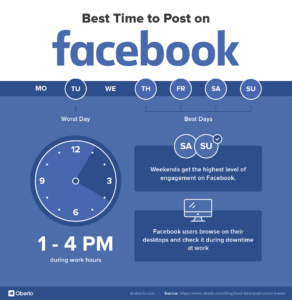 Every minute your Facebook fans and friends are posting their content. Content gains the best attention when a content marketer knows and understands the best time to post and schedule content. Thursdays and Fridays are the best days to do campaigns on Facebook because most people are in the spirit of the weekend.
For instance, ladies will be looking for dresses, bags and pair of shoes to shop during the weekend. Hence, create content that focuses on value, entice customers and posted in the time most are likely to be on Facebook.
Additionally, scheduling in a consistent manner will build a cult-like audience who will follow your posts and gain from them on ideas, new prices or any changes made in your organization.
The Content itself
Content is key for any kind of posting. The content prepared for the marketing should have well optimized and clear titles, a good description of the products and services, relevant use of images and text. If you have experienced downfalls in your previous content strategy, you can do a research on how to improve it.
To make the content stand out:
Focus on how many times the content will be shared by
defining the optimal hours.
Use more pictures than long texts.
Avoid posting too much; that is spamming.
Keep your content short with one to two lines.
Encourage the sharing and commenting on your posts.
Make your content emotional.
Be precise and relevant
Your content should be reasonable and timely.
Otherwise, do an analysis every time you post to check if you made any content errors and how you can rectify them.
The link Tip
You might have realized that when posting website and blog links on Facebook, a preview is fetched for the boosted content in the website. In most cases this includes: the photo, description and title which makes up the metadata.
It is advisable to remove the text in the link once the preview is up to ensure that the photo appears to use a square feature. This can enable you to write fresh text just before the link. Keep the content frequent, dynamic and valuable.
SEO and Keywords Use
Search Engine Optimization simply enables bloggers and digital marketers to get traffic to their blogs through organic search results on search engines. Facebook also allows searching through the search key using keywords depending on what the user is really looking for.
Most times the use of quality keywords can generate natural results. Content marketers can employ this so as to allow their content to be part of the top of the results.
Content marketing strategists should use SEO and keywords to outperform any competitors in the area of the business. Additionally, it promotes the building of a brand and enhances the performance of the shared content from the blogs.
The plan for your business
This covers the goals you have for your content program, the unique value you are looking to provide through your content, and details of your business model. Additionally, it should outline the obstacles and opportunities you may encounter as you execute your plan.
Use of paid Marketing

Do a campaign budget for boosting your content on your Facebook page to encourage more results.
Final Tip
In order to ensure that content marketing strategy works to your favor, define your goals and brainstorm on how you want your content to be. Organizations typically use content marketing to build an audience and to achieve at least one of these profitable results: increased revenue, lower costs, or better customers.
More Reads from other blogs:
7 steps to an effective Facebook Marketing Campaign Strategy